Bank at Work
The Bank at Work program for UC Berkeley employees gives you access to customized financial guidance, special offers and great perks on a variety of products and services. Find out more about your benefits as a UC Berkeley employee. 
---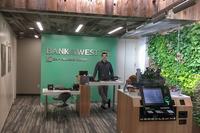 On-Campus Branch and ATM Locations 
Bank of the West has 10 ATMs across campus to ensure that faculty and staff can easily and conveniently do their banking without having to leave campus. In addition to convenient access to ATMs, faculty and staff can access an on-campus branch, located in the ASUC Student Union, MLK Jr. Building on the 1st floor.  View the campus map.



---
Financial Empowerment Series
The Bank at Work (BAW) Empowerment Series features the following topics: Banking Basics, Preventing Identity Theft, Borrowing Basics, Mortgage for the First-Time Homebuyer, and Investment and Retirement Planning. 
Request a group or individual BAW presentation today.
---
On-Campus Financial Specialists
Bank of the West is committed to helping the entire UC Berkeley community meet their short and long-term financial goals with dedicated specialists available to serve all your banking needs. Learn more about your specialists or feel free to schedule time with them during their regular on-campus office hours