Cal Dining Coffee Rewards Card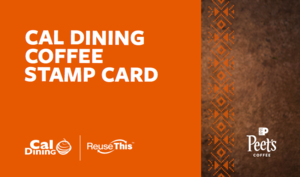 With every 4 coffee drinks purchased using a reusable mug, you'll receive a free small drip coffee! Also, when you use your reusable cup, you'll save 50 cents!

Stamp cards are available and redeemable at the following locations: The Den, brown's, The Golden Bear Café, Terrace Café, and Common Grounds.