Bank of the West, the Official Bank of UC Berkeley, is located on the first floor of the MLK Jr. Building and is here to serve your banking needs and answer any financial questions you have. In addition to their campus branch, Bank of the West has 10 ATMs across campus to ensure that students, faculty, staff, and the campus community can easily and conveniently do their banking without having to leave campus.
Bank of the West also provides the UC Berkeley community with scholarships, paid internships, financial guidance programs, and funding for important campus and student-led initiatives.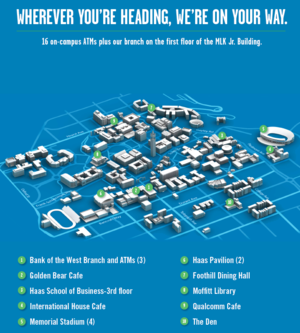 Click on image for larger PDF flyer.
On-Campus ATM Locations
ASUC Student Union, MLK Jr. Building - 1st Floor (3 ATMs)
The Den
Foothill Dining Hall
Golden Bear Cafe
Haas School of Business, Student Services Wing – 3
rd
 Floor
Moffit Library - 3rd Floor
Qualcomm Cafe
Limited Access ATMs* 
Memorial Stadium - Various Locations (4 ATMs)
Haas Pavilion - Various Locations (2 ATMs)
*These locations are only available during events and games.


On-Campus Branch Location 
ASUC Student Union, MLK Jr. Building-1st Floor