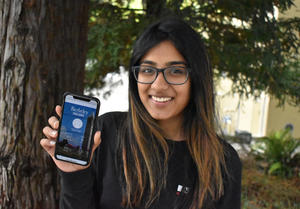 When she started her internship at Under Armour's office in Austin, Texas, UC Berkeley student Sruthi Machina had no idea she would be working on the company's MyFitnessPal and MapMyFitness apps. She was even more surprised when one of her projects connected her back to UC Berkeley –  the 30 Miles in 30 Days Fitness Challenge.
Thankfully for the economics and data science major, her managers created a custom plan that allowed her to learn exactly what she was hoping to – how data and marketing can intersect with one another.
"I told them going into it that I wanted to learn more about marketing and data science because I had done those separately, but never in tangent," Machina said.
Machina was able to do a rotation with the Under Armour Connected Fitness Media Team, working with different units for several weeks throughout the summer. Through this, she was able to see behind the scenes in the areas of marketing, finance and data analytics.
"She was kind of our right-hand person for a lot of our different campaigns," said Machina's supervisor Kelly Doyle, director of client success for Under Armour Connected Fitness.
During her internship, Machina learned how to clean and analyze data collected from MyFitnessPal users. The team she was on then used this data – information on user demographics and what types of foods people eat – to help Under Armour's advertisers reach their target markets.
"Every ad that I see now is different," Machina said, explaining how targeted in-app advertising really works. For example, which image a person sees alongside an ad may not seem like a big deal to the consumer, but the process behind how an image is selected and displayed takes time. "I see the work behind it now."
Doyle explained that both Machina and Under Armour benefited from the internship. For Machina, Doyle said, she was exposed to what marketing analytics look like in the real world and got a sense of what her position in the future could be. Under Armour benefited from having Machina's unique perspective as a current college student, especially on this fall's campus challenge which focuses on encouraging UC Berkeley students to be mindful of their health and fitness.
Fitness is also really important at Under Armour and is part of the culture in the Austin office, according to Machina.
"I ended up becoming super into working out this summer just because it's just the environment there," Machina said. It was normal for one of the managers to go for a run in the middle of the day and for employees to participate in activities like "Taco Run Tuesdays."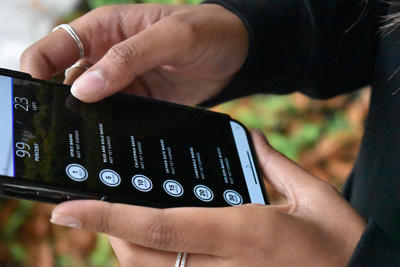 The people she worked with were full of energy and fun to be around. "I think the most valuable thing I learned is that working doesn't have to be scary and boring," Machina said. "I didn't know that you could work at a company that was super fun and everyone's close-knit."

"It taught me that I should be looking for this in future jobs – I think it was a great example of a place to work," she said.
The UC Berkeley 30 Miles in 30 Days Challenge is open to all users until Sept. 28. Individuals who register with a Berkeley.edu email and who successfully complete 30 miles by Sept. 28 will have a chance to win their choice of Under Armour HOVR shoes.
For more information on the challenge or to register, visit mapmyfitness.com/challenges/30milesin30days or download the MapMyFitness app. 
University Partnership Program