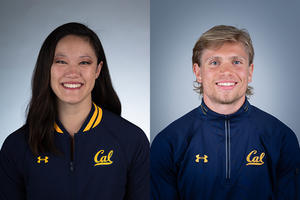 Cal Athletics recently celebrated the 2018-19 Bank of the West student-athlete scholarship recipients — Nina Schank and Tuomas Kaukolahti — during the 2019 Cal Athletics Scholarship Banquet. The student-athletes were selected based on their commitment to making Cal a better place, while also exhibiting optimism and innovation in their scholarly and athletic pursuits.
Schank, an all-around gymnast from Oakland, Calif., strives to be a leader in her sport while continually inspiring her teammates to be the best at what they do, inside and outside of the gym. "I lead by example in training, studying and living my life the way that I would want my team to," noted Schank. "I influence my teammates to have a good work ethic by working hard myself, even when I don't think people are watching."
Kaukolahti, a long jumper and triple jumper from Helsinki, Finland, intends to become a dietician and "work with athletes helping to optimize performance." Kaukolahti hopes that being recognized as a recipient of the Bank of the West scholarship shows other student-athletes that "determination and focus bring results in the long run."
In addition to being top student-athletes, this year's recipients embody Bank of the West's  commitment to honoring young people who display social responsibility, entrepreneurial spirit and a strong work ethic. "The driving factor to gain fulfillment should come from within the person, but getting acknowledged for my athletic success makes all the effort and heart that is put into the sport feel rewarding," said Kaukolahati. "Similar in academic success, if people recognize my achievements, it feels like the many hours that I put into studying are appreciated."
Every year, the Cal Athletics Fund fundraises for UC Berkeley's 30 varsity athletic programs which helps support every sport's annual fund, student-athlete scholarships, endowment funds and the unrestricted Cal Athletics Fund. For more information about the Cal Athletics Fund and how to support Cal's nearly 900 student-athletes, visit calathleticsfund.com.
University Partnership Program