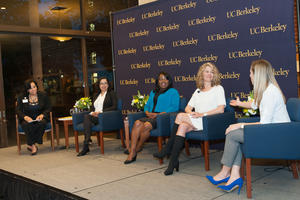 On Tuesday, March 28, the Cal Alumni Association (CAA) hosted their inaugural Alumnae Career Advancement panel. The event included a networking reception and panel discussion on the unique barriers to career advancement women face, particularly in male-dominated industries.
The panel, made up of five Cal alumnae, included Jenny Flores (class of '00) community affairs manager for Bank of the West; Kate Scott ('05) anchor, reporter, play-by-play announcer, and host for the Pac-12 Network; Lisen Stromberg (MBA '91) award-winning journalist, speaker, CEO and founder of PrismWork; and Adelmise Rosemé Warner ('97) lead employment counsel at Pandora Media, Inc. The panel was moderated by Cloey Hewlett ('76, J.D. '79) executive director of CAA. 
Each speaker discussed their professional experiences in hopes of sparking dialogue regarding women's professional growth and advancement initiatives. As the community affairs manager for Bank of the West, Flores explained the importance of Bank of the West's involvement with CAA saying that they've "had a collaborative relationship with UC Berkeley for nearly 20 years. When we support the Alumni Association, we're also supporting the university, our students, a global Cal network, and the local community in which we operate."
As the official bank of UC Berkeley, Bank of the West supports the university's mission and guiding principles. "By building a relationship with UC Berkeley and sponsoring this event, Bank of the West connects [our] business to [our] community development mission to support entrepreneurs and small business development, affordable housing, education and job training, and financial capability" said Jenny Flores. Bank of the West contributed to the event as a Golden Bear Sponsor, which supported the panel reception, event signage, and the attendee's complimentary books. 
To learn more about the event and the Alumnae panelists register for the event, or to find out more, visit CAA's event page. 
University Partnership Program