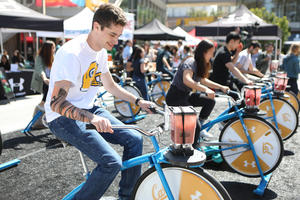 Could you run 150,000 miles in 30 days? A feat that might seem impossible to one individual can be obtained by a community that rallies together for a common goal–supporting campus basic needs programs and initiatives.
The Berkeley Miles for Meals Challenge, a digital fitness challenge hosted through Under Armour's MapMyFitness mobile app, encouraged UC Berkeley students, faculty, staff, alumni, and the surrounding community to collectively run, walk, or roll 150,000 miles between April 4 and May 3. If successful, Under Armour, the campus's official outfitting partner, would make a charitable donation of $10,000 in support of two campus basic needs programs–the UC Berkeley Food Pantry and the Berkeley Student Food Collective.
Fast forward a month later and the community has successfully surpassed the challenge goal coming in at 172,000 miles with the help of over 4,000 community participants. "From planning to execution, it was truly a team effort and we can't thank the students, faculty, staff, and community enough for their support in bringing this [challenge] to life," said Amanda Parker, partnerships manager at Under Armour. "This is the second challenge we've launched with the campus and we've seen over five times as many [community participants] join...It reinforces both the University's and Under Armour's commitment to helping others live a healthier life."
The donation from Under Armour "will help fund about 600 student meals for the Food Pantry and 1,200 bags of fresh produce for the Food Collective," said Ruben Canedo, chair of the UC Berkeley Basic Needs Committee.
UC Berkeley is the first 'Connected Campus' to work with Under Armour to create a unique and integrated event, centered around a digital challenge. As Under Armour continues to grow digitally, they plan to explore more innovative ways to engage the student body and broader communities through their digital platforms.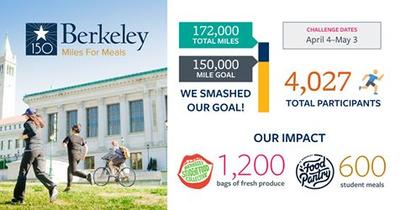 Under Armour will continue to work collaboratively with a variety of campus groups including the ASUC, Graduate Assembly, Cal Dining, Recreational Sports, University Health Services, and the University Partnership Program to create and support two fitness and/or nutrition-focused challenges annually over the course of its partnership with Berkeley. "The feedback we received from students and [the community] who participated was very positive. There were a lot of wins and key learnings that can be applied in the future so that the next challenge can be even better," says Parker.
The next Berkeley-Under Armour campus challenge is scheduled to launch at the beginning of the fall semester once students return from summer break. For more information on upcoming challenges, please visit the UC Berkeley - Under Armour Campus Challenges page
University Partnership Program