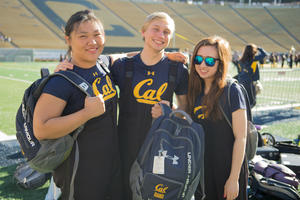 It's 8 am on a Saturday and bandsmen are already on the field, tuning their instruments and making last minute adjustments to their upcoming halftime performance. Within a few hours hours, fans will fill Memorial Stadium to cheer on the Cal Bears as they run onto the field in their new Under Armour uniforms. Not only does Under Armour design and supply apparel and footwear for Cal Athletics, but they also outfit one of UC Berkeley's oldest and richest campus organizations, the Cal Band.
The recent Under Armour partnership has given Cal Band new opportunities including supplying all 244 current members with gameday apparel. Band member Sandy Lee explained, "it allows us to feel unified with [our] school...we can proudly stand next to [our] athletes and show what [UC Berkeley] has to offer." So far, the bandsmen have received gameday t-shirts and backpacks, with more apparel such as caps, shorts, and overnight bags expected in the future.
"In past years, apparel purchases came out of our budget," explained Cal Band Director Robert Calonico. "It has been wonderful to have extra money to do other things such as taking the full band to [the University of Washington] for a joint halftime performance." Away game travel typically involved only 40-50 members, less than a quarter of the full band membership. Calonico was glad to give students the experience and felt that being able to bring all members allowed "them to feel more included."
Recreational Sports' 34 club teams also received Under Armour uniforms. Katie Fletcher, the director of Cal Sports Clubs, projected "savings of up to 75% for some teams." This can be a significant difference for some teams as "cost savings on apparel will allow teams to reallocate resources to other areas such as additional travel and access to additional training opportunities to increase their competitive edge," noted Katie.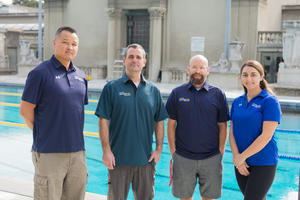 In addition, the Physical Education Department received an apparel allotment. The allotment "helps us increase our visibility by being able to outfit our faculty and staff in an organized and upscale manner while they are at work," explained Brent Atkinson, the facility manager of Hearst Gym. Similar to the Cal Band, funding for apparel was a cost supported through general department funds. With the cost savings from the Under Armour allotment, Physical Education can now evaluate opportunities for building improvement updates and new athletic equipment for their classes.
Recently, the department has been increasing outreach to students, faculty, alumni, and the general community. In the past, these opportunities would have "strained our already tight budget." Brent noted that "the UA apparel deal has given us breathing room that we desperately needed at this juncture as we continue to increase our outreach."
Initially announced in April 2016, the 10-year agreement with Under Armour is the first outfitting partnership to feature a comprehensive, campuswide relationship, including Cal Athletics and the broader Berkeley community. Additional campus benefits include student internships, employment opportunities for UC Berkeley graduates, campus fitness and nutritional challenges, charitable partnerships and exclusive product discounts for campus departments.
University Partnership Program