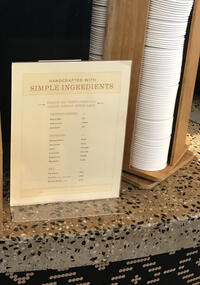 UC Berkeley has been heavily advocating for healthy food and beverage choices for all members of the campus community, made evident by University Health Service's Food and Beverage Choices Policy. Originally launched in January 2019, the campuswide policy establishes nutrition standards for university-operated retail foodservice operations, retail markets and convenience shops; third-party foodservice operations; vending machines; and campus meetings and events.
The main goal of the policy focuses on increasing access to healthier food and beverages. The policy is not meant to take options away from campus consumers.
Kim Guess, a wellness program dietitian under the Be Well at Work Wellness Program, has been leading this change across campus.
In her experience as a dietitian, Guess has witnessed many individuals try to alter their habits by suddenly switching from consuming very sweet items to unsweetened ones, noting that these new habits only last a day or so. Slowly reducing the amount of sugar, giving your body time to adjust, proves to be more successful.  
"Nutrition is more complicated than most people imagine," said Guess. "By helping customers understand which choices are healthier, they can make the choice that is best for them."
While not contractually obligated to meet the FBC Policy, which was put in place after their campus agreement, Peet's is committed to partnering with University Health Services, Cal Dining, other campus partners, and nutrition experts to support the health and well being of the UC Berkeley community. As a result, the company has been collaborating with Guess on a Healthy Menu concept. 
"The healthier menu at Peet's is a tool for customers who would like to choose a non-sugar sweetened option. It may not be obvious which beverages are unsweetened on the full menu, so they are specified on this list to help customers make their choice," said Guess. 
In addition to the healthier menu, Guess also worked with Peet's to develop a point-of-service Added Sugar informational chart that shows the amount of added sugar for beverages offered year-round. She explained that most coffee shops and restaurants do not offer information on added sugar, and usually only include total calorie count. Those that do provide additional nutrition facts typically do not distinguish between total sugar versus added sugar. 
Some coffee beverages incorporate milk, which includes naturally-occurring sugars from lactose, which are not a health concern. By calculating the amount of naturally-occurring sugar in each particular drink, Guess has been able to highlight how much added sugar goes into each Peet's coffee beverage.
"The customer can use this information however they wish," said Guess. "Some beverages may contain more added sugar than [individuals] realize, so they may decide to request less syrup, order a smaller size, or choose a different drink."  
The Healthier Menu is on display at on-campus Cal Dining-Peet's locations for customers to view. Additionally, the Added Sugar chart is available in the Peet's section of the Food and Beverage Choices webpage. Post-shelter-in-place, the chart will also be available behind the campus Peet's counter, and can be requested by customers while ordering.
"Small changes can be made to the food environment by expanding choices rather than taking them away, providing useful information at point-of-sale, and using marketing to promote nutritious options," said Guess. "We are trying to nudge people in the right direction, not shove them."
University Partnership Program