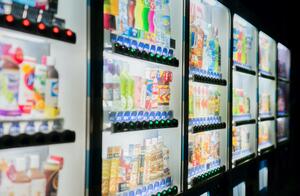 Between academics, career development and social activities, maintaining healthy habits as a college student is far from easy. What is most readily available around campus, while also being reasonably priced, typically tends to be unhealthy. With this in mind, and in an effort to support the health and well-being of the Berkeley community, University Health Services (UHS) implemented the Food and Beverage Choices (FBC) Policy. 
The campus FBC Policy, which became effective in November 2020, focuses on supporting healthier food and beverage options on campus, making a healthy lifestyle more accessible for students, staff, faculty and the broader UC Berkeley campus community. Under the policy, all campus beverage vending machines must have visible selections with Healthier Beverages that make up 70% or greater of total products, and "sugar-sweetened and less healthy beverages" at 30% or less. Healthier Beverages encompass water, low-calorie beverages, juice and juice beverages, milks including non-dairy or plant-derived, supplemental protein or nutrition beverages, tea and coffee. 
In addition, the policy applies to campus operated restaurants and retail, athletic concessions, dining commons, third-party tenants, meetings and events. 
The campus currently receives a majority of its beverage supplies from Pepsi, with the company's products contributing to an average of 85% of the beverage shelf space in campus retail locations. As a campus vending and beverage partner, Pepsi, in coordination with campus dining, were required to meet these guidelines starting fall of 2021, with a shared commitment to working with the campus to meet FBC Policy standards.
"Pepsi's general compliance with the policy can be shown as a proof point that it is willing to work with campus on these priorities," says Brandon Schneider, manager of project affairs at University Business Partnerships & Services (UBPS). "It also lends credence to the idea that positive results can be achieved by working with large companies like Pepsi."
Progress of the policy is monitored through a campus audit which is conducted by UHS and students enrolled in the campus's Nutrition in the Community class. A "pre-implementation phase" analysis of campus vending machines was conducted by UHS and UBPS in the summer of 2021 to serve as a baseline reference, with a formal audit and analysis conducted by the students during fall 2021.
Results from the audit show that a total of 59 campus beverage vending machines were successfully audited in the fall, with 91.5% of the machines meeting the benchmark standard — those which had at least 70% healthier beverages. 
The audit also showed that on average, 78.5% of beverage slots were now healthier items — a huge improvement from the 37% rating from 2019, before the FBC policy affected the campus's beverage contract.
Despite Pepsi's diverse product portfolio, with products such as Aquafina, Bubly and Naked Juice, Schneider noted that some healthier products experienced delivery delays due to recent supply chain issues. Additionally, there were logistical hurdles when working around campus building closures due to the pandemic.
Schneider added that Pepsi has increased its water and healthier juice offerings and reduced its sugar sweetened beverages footprint. In the short-term, water sales appear to have increased. However, Schneider shared "we don't yet understand if that's a type of one-off due to changes to meal plans and dining hall operations during the pandemic, or a broader shift in campus consumption."
Although there were some challenges, the campus is fortunate enough to have a campus partner who is willing to adapt to support UC Berkeley's values. Going forward, UHS would like to collaborate with Pepsi on placing healthier options at eye levels and rebranding the healthier beverage machines. 
In the meantime, UHS plans to continue working together with Pepsi so that 100% of beverage vending machines meet the FBC policy standards, making the healthy choice the easy choice whenever students are on campus.
At the time of article publication, PepsiCo was in the process of meeting all policy guidelines. PepsiCo is currently in full compliance of the campus's Food and Beverage Choices policy.