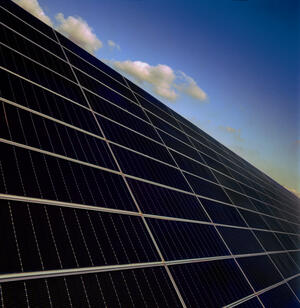 We're "gonna soak up the sun…" No. We aren't singing a remake of a popular summer song. 
Instead, we are talking about something more sustainable––UC Berkeley's plans to expand the campus's current on-site solar program. The goal would see UC Berkeley producing a total of 5 megawatts (MW) of solar power, an equivalent amount of electricity used by 6,000 Californians annually.
In support of the UC systemwide Carbon Neutrality Initiative, UC Berkeley has taken an active role toward improving the campus's energy efficiency, developing new sources of renewable energy and implementing strategies to cut the campus's carbon emissions. The Carbon Neutrality Initiative, which was announced in 2013 by then UC President Janet Napolitano, commits the UC System to emitting net zero greenhouse gases from its buildings and vehicle fleet by 2025. 

For UC Berkeley, this represents an 80% reduction or offset of carbon emissions from building energy use with the remaining 20% associated with campus transportation.  UC Berkeley is focused on decarbonizing its energy system, with an aim to significantly reduce carbon impacts from campus energy building usage by 2030 On-site, locally generated renewable power is an integral part of the campus's decarbonization strategy. At present, the campus has 1.2 MW of solar photovoltaic (PV), or solar cell panel power generation, installed at six campus locations including Chou Hall, Eshleman Hall, Jacobs Hall, MLK Jr. Student Union Building, Recreational Sports Field House and University Village. The solar PV installations were part of a phased installation plan and can be found on facility rooftops and housing carports.
"Looking at on-site solar PV and maximizing what we can has only increased as a priority," says Kira Stoll, chief sustainability and carbon solutions officer at UC Berkeley. 
Currently, the campus is working on four additional solar PV installation sites, which would add an additional 3.6 MW of solar power generation, bringing the campus very close to its 5 MW target. The installation sites being evaluated will include a new ground-mounted site, additional facility rooftops, campus carports and battery storage––a first for the campus.
Stoll notes that battery storage is a more efficient system. Solar energy is not always produced at the time when energy is needed most, and production can be impacted by the time of day, cloud cover or other obstructions like shadows, rain and dirt. A campus storage system can store solar PV, allowing for the dispatch of accumulated power "throughout the day and evening, as opposed to only when the sun is shining." 
Battery storage can also positively impact the campus in unforeseen circumstances, including providing "resiliency during power outages."
The support for sustainability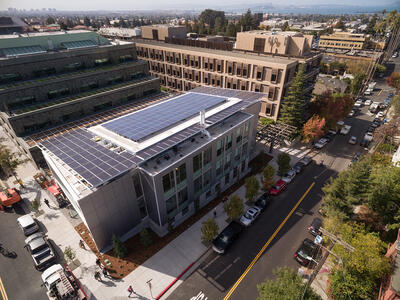 The campus plans to evaluate additional opportunities to add even more solar in the near future. However, Stoll shares that new or expanding projects like the Campus Solar PV Program oftentimes need planning and study funding to keep them moving forward.
This year the campus's vending and beverage partner, PepsiCo is providing this little booster of funding. 
PepsiCo's funding will help support immediate needs to ensure the campus stays on pace with its solar PV goals, and will be used to bring in expert services this summer. Services will include a site specific electrical test to help ensure the best industry system design is implemented by the installer, as well as a high-level review of future locations to install solar PV.

PepsiCo is not new to supporting UC Berkeley's sustainability programs. In the past, the company has provided recycling bins, education opportunities and support for various sustainability-focused initiatives with Cal Zero Waste and Cal Athletics. 
Thinking beyond 2025 is necessary, as carbon neutrality needs to be sustainable for years. Expanded consideration of the main campus energy system options, emerging technologies, creative financing mechanisms and more is part of a longer-term strategy being developed.
"We've already taken that important first step in our commitment to clean on-site power generation," says Stoll. "This [support] will position us to better understand where the campus can go with future solar PV; it's going to better position us to move quickly when opportunities come along."