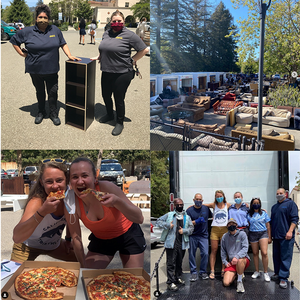 Moving is one of the most stressful and anxiety-inducing tasks as a college student. Each year, thousands of UC Berkeley students lease unfurnished apartments and houses, furnish them, and then find themselves questioning what to do with the furniture when moving out. This often results in students hastefully leaving furniture on the streets, cluttering the curbsides of Berkeley.
The UC Berkeley Student Cooperatives saw a sustainability issue with the discarded furniture generated from students moving out every spring. An idea to centralize the move-out process sparked the founding of the Cooperative Reuse program in 2019.
Funded by the Chancellor's Community Partnership Fund, the Cooperative Reuse program provides students a simple way to recycle their gently-used furniture by providing both drop-off and pick-up opportunities. The program, which is managed by Cal Zero Waste, streamlined this year's process by partnering with Chipman Relocation and Logistics (Chipman) to offer free pickups of reusable furniture and household items such as mattresses, couches, desks, chairs and electronics. 
Throughout May 21 to June 1, students dropped off donated furniture to the Clark Kerr Southwest Parking Lot. Alternatively, students who were unable to transport their items could coordinate a free pickup with Chipman.
Partnering to promote student values
UC Berkeley students, Julia Sherman and Kathryn Wilson, along with ten student volunteers, worked tirelessly to promote the Cooperative Reuse initiative across various departments and organizations' social media platforms. The initiative was even included in an email from Chancellor Christ and Marc Fisher, to ensure campuswide awareness. 
 "Both university and community partnerships made the program so successful in not only spreading the word, but also making the program run," said Kathryn Wilson, co-lead of Cooperative Reuse. "Students unable to transport furniture to Clark Kerr themselves were still able to participate in furniture donation through Cooperative Reuse's partnership with Chipman." 
Chipman, which has an established relationship with the UC system, was introduced to Cooperative Reuse through the University Business Partnership & Services department. The company expressed interest in a relationship as they were "exploring how to engage Berkeley graduate and undergraduate students as consultants for, respectively, sustainability and diversity, equity, and inclusion," says UBPS Manager of Project Affairs, Brandon Schneider. 
Over 120 Southside student households had their gently-used furniture picked up free of charge for later donation. This year's initiative met record success with nearly 200,000 pounds of donated material.
In addition, the donated furniture was available to students and the Berkeley community to claim, free of charge, during the same time period, with more than 2,500 people retrieving donated items.
"Furniture was offered on a first-come, first-serve basis and students were encouraged to take as much as they wanted," said Wilson. "Any leftover furniture was taken to the Berkeley Transfer Station, where the unclaimed furniture could be properly sorted and processed." 
While this year's program was record breaking, Cooperative Reuse is looking for ways to further grow the success of the program for the following year. They hope to increase the size of their team in order to distribute shifts more equally and also hope to integrate one-day volunteer opportunities for large campus organizations to assist with the physical labor of moving heavy furniture. 
"What I love most about the program is the power of community even during tumultuous times," said Wilson. "Thousands of students showed up to make Move Out what it is, and I'm just grateful to be part of such a dynamic and supportive student body."