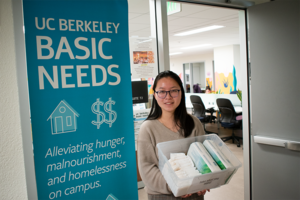 What started as a push for free tampons and pads has now grown into a student-led group that manages distribution of free menstrual products to the UC Berkeley campus community.
After securing funding through the campus Wellness Fund, Emaan Siddique, a graduating senior and economics major at UC Berkeley, needed to find a way to distribute and utilize the funds. That's when the idea for the Coalition for the Institutionalization of Free Menstrual Product (CIFMP) was born.
"I began working on this initiative during my time as a student health director in the office of former ASUC Senator Megha Torpunuri," said Siddique. "I spent a lot of my time building the coalition by reaching out to existing campus organizations with similar missions, including Confi at Cal, Happy Period at Berkeley and Ladies for Change. Individuals from these organizations were the first founding members of the CIFMP and have been pivotal to our success."
The coalition aims to maximize the wellness of menstruating students through supplying and distributing free menstrual products. The group launched their pilot program in April 2019 at Moffitt Library. Free products are placed in bins in the fourth floor gender-inclusive restroom and the women's fifth floor restroom.
CIFMP has since expanded to incorporate bin locations into the Basic Needs Center and the Tang Center and plans to have products in the Kresge Library, Garbarini Lounge in Bechtel and Davis Hall starting spring 2020.
The price of a period
Although products are provided for free to the campus community, offering this service comes with a cost for CIFMP. 
"Providing menstrual products to a student body of this size is a fairly expensive undertaking, costing between $800 and $1,100 to maintain per month, per site," said Jessica Wang, a UC Berkeley junior and economics and rhetoric major. "This number will likely increase as we try to make sure stock is supplied more quickly, and as increased awareness [raises] traffic to our sites."
While the group hopes to receive renewed funding from the campus Wellness Fund, it's not a guarantee. In addition, one of CIFMP's goals is to provide more eco-friendly, sustainable products which can cost more than generic and name brand offerings.
This summer, Siddique was able to meet with University Business Partnerships & Services (UBPS) which connected her with an alum and supporter. "We got connected to Dr. Sophia Yen through UBPS; [they] reached out to us to learn more about our initiative, and then got us in touch with her shortly after."
"Menstrual hygiene products should be free in every bathroom, just like toilet paper," said Dr. Sophia Yen, chief executive officer and co-founder of Pandia Health, a birth control delivery company. "Pandia Health is about making women's lives better and we are proud to help secure the funds to support CIFMP."Funding from Pandia Health will go towards the purchase of products and product bins in an effort to help support CIFMP's distribution of menstrual products on the Berkeley campus. 
As incoming president of CIFMP, Wang noted areas of improvement and focus for next year, which include improving the process of ordering materials and ensuring bins are restocked more regularly. In addition, the group would like to improve measurement metrics to better understand how many individuals they are helping on campus.
"Long-term, we hope to show the university that a need exists for free menstrual products and that ultimately they'll be able to take over provision and distribution of products to students, which we see as a crucial component to student wellness," said Wang.
Yen previously recalled instances on campus where she had been stuck without access to products, "Menstrual products are necessities and not having a menstrual hygiene product when you need it, is embarrassing, mortifying and humiliating."
To learn more about CIFMP or to get involved with their organization, visit their Facebook page or email them at cifmpatcal@gmail.com
University Partnership Program