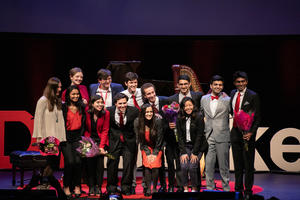 Every year thousands of people from the Berkeley community gather at Zellerbach Hall to listen to stories and talks about innovation, society, politics, science and relationships. The lights, the music, the outstanding speakers – it can appear as if hundreds of people are working to make TEDxBerkeley come together. The core team, though, only consists of about a dozen UC Berkeley undergraduate students.
Ananya Krishnan is one of those students. 
Krishnan, a rising senior studying cognitive and computer sciences, has always been a fan of TED Talks – she enjoys the educational and inspirational components of them. But, having only ever watched them online, she never really understood the effort it took to plan one. 
Then she enrolled at UC Berkeley and became involved with TEDxBerkeley, a TED-based student-run organization that seeks to capture the spirit of Berkeley by gathering visionary thinkers and leaders from the Bay Area and beyond to spark new ideas, insights, and opportunities. 
"As a student at [UC] Berkeley, I think, sometimes it's often easy to get mixed up in the kind of formulaic nature of the everyday," Krishnan said. "Students have a lot of great ideas, but we can get so stuck in the general proceedings of life that those ideas can be stifled." Through TEDx, she said, community members can stay motivated, share ideas and be pushed to reach out to others doing similar work. 
Krishnan started her journey with TEDxBerkeley by scoping out different roles and jumping in to help wherever she was needed. Most of the event planning, she said, had been taken care of almost a year in advance so opportunities for freshmen to help were limited. Krishnan was reaching out to local businesses asking if they wanted to distribute items – food, drinks, merchandise – at the event. By her sophomore year, though, Krishnan started working with the LEAD Center, handling TEDxBerkeley's finances and corporate sponsorships. 
"My sophomore year, we never really had a system set in place for sponsorships," Krishnan explained. TEDxBerkeley's funding mainly came from ticket sales and crowdsourcing. "It was never something we put time or attention into."
As TEDxBerkeley continued to grow, so did their need for funding. So, in the fall of 2018, the group approached the chancellor, who recommended they reach out to University Business Partnerships and Services (UBPS). After an initial introduction was made, Krishnan teamed up with UBPS Activation Manager Anissa Hagedorn, who was able to help guide her through the partnership process. Later, Brandon Schneider, manager of project affairs, would also join the team. 
"[UBPS] really enabled us to structure out this program," Krishnan said. The student leaders and UBPS worked together to review TEDxBerkeley's mission and determine the best way to pitch to potential partners. In addition, the two teams worked to develop a sponsorship package that could secure opportunities to support the program moving forward.
"We asked all of our UBPS partners," Hagedorn said. "Bank of the West was one of the first partners to respond with an interest in supporting this student group." 
That year, TEDxBerkeley's theme, Infle(X)ion which focused on points of change, aligned perfectly with Bank of the West's identity as "the bank for a changing world." The bank was an obvious choice, but the students still needed to formally  pitch the potential sponsorship options. 
Hagedorn helped the students figure that out. 
When asking for sponsorship, Hagedorn says, organizations need to define different levels of participation – basically outlining how that sponsor will be recognized for the amount of support they're providing. 
"Businesses like to know that there are differing levels of engagement. They want choices," she said. "Whether you put your logo on a reusable mug or on a lanyard or whether you have a speaking part – all these opportunities are worth something."
For the spring 2019 event, Bank of the West chose the highest level of engagement, providing $25,000 in sponsorship. 
"It really helped make our vision for the event come true," Krishnan said. And, she added, it gave TEDxBerkeley's new student organizers a partnership model to aspire to. 
These types of sponsorships not only help student organizations hold events, but they also help businesses engage with students in a more meaningful way by supporting important campus initiatives as well as building their brand on campus, Hagedorn says. These relationships provide benefits to both the campus community and to the sponsors.
"It's a win-win," Hagedorn says. 
TEDxBerkeley's collaboration with UBPS has changed how the event organizers think about fundraising, planning and execution. It has also changed the students who are involved in that process. 
"I have grown so much more in terms of communication, marketing, corporate communications and as a professional," Krishnan said. It feels like UBPS is just as invested in TEDxBerkeley as she is, she added. "They always try to make sure we have success."
To learn more about TEDxBerkeley, visit https://tedxberkeley.org. Campus organizations and departments interested in learning more about sponsorship opportunities can visit https://upp.berkeley.edu/partnership-services.
University Partnership Program