The University Partnership Program team and official campus partners, Sungevity and Bank of the West, participated in this year's 30 Days of Gratitude series hosted by Recreational Sports. A set of community events were held between November 7-December 9 and included a social media challenge, the Do Something Good clothing drive, and a holiday-themed Family Dinner.
Do something good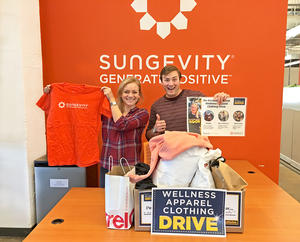 As part of the #30DaysofGratitude social media challenge, the campus community and university partners were invited and encouraged to share their responses after completing gratitude cards that stated, "I'm grateful for _______". Over 30 Sungevity employees, 15 being Cal alumni, participated in the challenge by sharing their responses online via a variety of social media channels.
Additionally, Sungevity employees gathered a box of about 25 lbs. worth of wellness apparel items for the Do Something Good clothing drive. Items collected during the drive benefited the campus' Wellness Apparel Project, University Village, and the ASUC Re-Use Center.
"Our partnership demonstrates how a for-profit and an academic institution can work together to prioritize the causes we both care about and have a lasting effect on our community," said Tiffany Douglass, channel marketing manager at Sungevity. "Whether it's partaking in a social media campaign, donating items for a wellness apparel drive, serving a holiday dinner to students, hiring alumni and interns, or installing a solar system on campus, we are very pleased to share the commitment to innovation, integrity, and first-in-class performance." 
Give thanks
On November 22, a holiday-themed family dinner was hosted for Cal students who were unable to travel home for the holiday break. The event was attended by over 300 students and included a buffet featuring Thanksgiving fare. Partners were invited to volunteer their time during three shifts serving as greeters, servers, and positive role models helping to build community among attendees.
"Participating in the Recreational Sports Thanksgiving Celebration brought to light the true meaning of Bank of the West's relationship with UC Berkeley - serving the needs of the campus community," said Chris Lane, universal banking officer at Bank of the West. "It was an honor for me and my team to be a small part of this amazing event." 
University Partnership Program