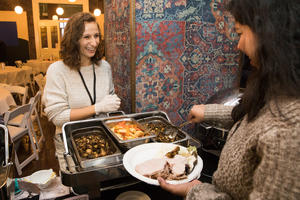 Over 400 students and community members attended this year's Annual Community Dinner at the Graduate Hotel. The dinner was hosted by the Student Affairs Business Development Department as part of the Cal Social Good Program, an initiative that supports and empowers the community and campus partners who are making a social impact in the world. Program initiatives focus mainly on service and community, women's health and wellness, and arts and humanity.
The idea for a community dinner started as a way to serve students, staff, and families of the Cal community who were unable to travel home for the Thanksgiving break. In addition to a free dinner featuring classic Thanksgiving dishes and vegetarian options, attendees were encouraged to meet new people and connect with one another. "The dinner creates purpose, community and unity with the students, partners and volunteers who attend," said Kirk Robles, associate director of Business Development. "Our hope is that everyone will someday pay it forward and host a meal for someone over the holidays."
The program has grown significantly since hosting the first Community Dinner over three years ago, with volunteer and guest registrations nearly doubling. For university staff, Robles noted that the program "aligns with the campus mission of service above self," allowing staff the opportunity to come together to "serve others beyond their daily work roles and activities."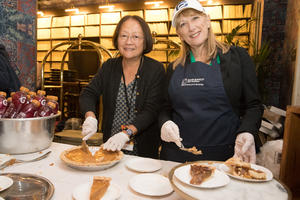 Additionally, campus partners have also been involved since the beginning, helping to increase awareness beyond the Berkeley campus. This year, staff members from Bank of the West, the official bank of UC Berkeley, volunteered their time to serve food and sit down with students. For the bank, it was a chance to give back to their community and connect with students. "By creating these relationships with these social programs, brands are able to tell their story in unique ways as well as sharing their values of corporate social responsibility," said Robles.
Other program partners like the Graduate Hotel donated the venue, providing a cozy, warm atmosphere. Attendees also received 10,000 MileagePlus miles from United Airlines as part of the United Airlines Act of Kindness Giveaway. In total, 50 campus staff, student leaders, and partners volunteered their time.
Students Affairs is currently developing other programs, like the community dinner, with the hopes to "amplify student programming such as Calapalooza, the ASUC Open House, and Wellness Happens Here," stated Robles. To learn more about upcoming programs or volunteer opportunities, visit the Cal Social Good Facebook page