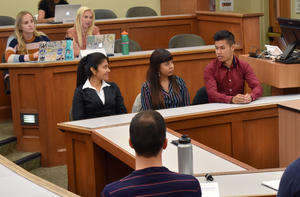 Students in Krystal Thomas' Product, Branding and Entertainment class are getting a chance to pitch their marketing ideas to Peet's Coffee. The Bay Area roaster wants to spread the word that its mission is more than coffee – it's sustainability.
To illustrate this to students, Peet's brought in Lucia Alvarez, a coffee farmer and a member of the Coocentral coffee cooperative who received training through the Women's Center for Entrepreneurship in Huila, Colombia. Peet's Coffee helped establish the center in collaboration with Sustainable Harvest, an Oregon-based B Corp coffee trading company, and several other partners, to train women farmers to build small businesses that complement coffee farming. 
"We started the center as a response to the women's desire to continue their education and to become strong economic contributors in their households," said Matt Broscio, social responsibility manager at Peet's Coffee. "The training has been transformative for this group of women – many with limited formal education and who have had traditional roles in their households and communities."
The Center's curriculum teaches the women the fundamentals of entrepreneurship, business model development and business plan creation. 
During a special class presentation last month at the Haas School of Business, Alvarez answered questions about her experience as a farmer and entrepreneur working with Peet's. She described the long hours she works during harvest season and some of the unique challenges she faces as a woman farmer in a community where most farmers are men. 
"Lucia speaking with the students is a chance for us to help educate coffee drinkers about the realities of growing coffee – on and off the farm – and where we can offer support beyond purchasing and drinking their coffee," Broscio explained.
This spring, Peet's will be releasing a line of coffee – Mujeres Cafeteras – that will help bring more funding to the center. A percentage of Mujeres Cafeteras sales will be donated back to the center. 
Students in the class have been asked to come up with a marketing plan to help tell the story behind this line of coffee – the story of the 100 women, including Lucia, who are being helped by this launch. 
"While we hope to get fresh marketing and communication insights from a talented group of young people that we could put into action, we also hope to inspire and educate students about what we do at Peet's and about the incredible efforts of farmers like Lucia," said Broscio. If the students have a viable idea that aligns with their brand values and capabilities, he added, Peet's will implement it. 
For more information about how Peet's supports women, check out our story Beyond the Bean. Mujeres Cafeteras will be released in spring 2020 and will be available for purchase at campus Cal Dining – Peet's locations through end of year. 
University Partnership Program